Shopping Cart
Your Cart is Empty
There was an error with PayPal
Click here to try again
Thank you for your business!
You should be receiving an order confirmation from Paypal shortly.
Exit Shopping Cart
American made/Home raised & certified preowned cats and kittens for adoption
Please forward to your Nola network...someone RESPONSIBLE needs to get this dog...
Gin Stafford
Begin forwarded message:
Free Dog!! Someone left a dog tied up at one of my apartments He is young (maybe 2-3 yrs) and very energetic and very sweet and loving. I would love to take him but my dog is 18yrs old (and much smaller), and it just wouldnt work he has too much energy for me. (and my dog) The tenant left town, i can not get in touch with him My contractor gave the dog food and water, and took the leash off, but he is scared to come down the stairs. He seems very gentle and sweet i met the dog 2-3 times i am sure he is just scared right now. i actually havent been there in a couple of months. I have no idea if he has shots, but he seems healthy (my contractor says) He is upstairs on the back porch at my apartment at[ 8000 block] Divine in New Orleans East. it is a 3-plex, this is the only upstairs apartment but you have to go in the backyard to get him. I own the building and anyone who can take the dog and rescue him, or give him a home is free to go get him. if no one can take him, i am open to suggestions i dont know what else to do with him feel free to call me with any questions.

Brad Mayeux , 504-905-1618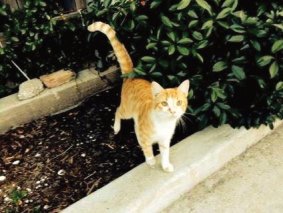 Exxterra is a very sweet 8 month old kitty that is no longer wanted .a young couple with a 10 month old baby adopted him as a kitten but now don't want him anymore. They are moving in 2 days and asked me if I knew anyone that would take him. They recently started letting him go out and I'm afraid they will just move and leave him . I did help them get him neutered in December when he was 4 months old. If you can give this little guy a home please contact me, Anastasia 504 462-1968
Also Needing homes
Subject:Kittens need a home

I just rescued these babies tonight, they seem to be 4-5 wks old, momma is a sweet calico I will get her and remaining kitten tomorrow. Please let me know if anyone is looking for a kitten. There is one Tortie and two orange and white so far .my number is 504 462-1968 Anastasia



Subject: Kitties at West End need feeders

Nancy C. feeds West End but will be going to Colorado again for 6 months, end of May til ???, or at least all summer. Then she travels other places quite a bit. She desperately needs feeder(s) to feed a few beautiful long haired seawall cats ...
She would so appreciate some help feeding. It is a very safe area and fun to do. I think she has someone to feed M, W, F.

Let me know.
Thank you,
Daphne--
2.   LA ( New Orleans )  Need kitten traps/help trap kittens.Contact:
Tania Velasco 504-343-3540
[email protected]
Sent:
Tuesday, May 6, 2014 1:09 PM
Subject:
Need help trapping 
I need help to trap... I have no traps .. Kittens
Thank you,
Tania, they can call me at 504-343-3540
3.    Subject: Fwd: TWFS Voodoo Katrina kitty needs urgent donations.
From:
[email protected]
<
[email protected]
>
Date: Wed, May 7, 2014 at 5:57 PM
Subject: TWFS Voodoo Katrina kitty needs urgent donations.
To: "
[email protected]
" <
[email protected]
>
Hello all,My 10 year old girl Voodoo who I rescued from the "hell house" in New Orleans weeks after Katrina needs vet care tomorrow. She is one of only two left from this house that flooded and where we found many dead. She is a survivor. Last year she had a medical problem which resolved after meds were given. We were not sure what the cause was. Her front legs tensed up and she could not use them. She has been fine until Easter Sunday. She was put on the same meds but they are now not working as well. Tonight she is having problems walking again. Our vet funds are depleted and we are in need of donations for Voodoo to get tests done tomorrow. The doc estimates about $300.If you can help at all, please call Animal Medical Services at 336-786-9444 between 8-4 EST and let them know you would like to help Voodoo. We would really appreciate any assistance at all.
Hello pet lovers! I have a one year old cat, we just moved to nola from Chicago. We found our roommate through cl, and he ended up being a psycho. I came home from work yesterday to my cat, Cinderella, poisoned, a claw ripped out, and one of her back legs broken. She cant walk. I took her to the emergency vet where they gave her I've fluids. I dont get paid until friday, and no vet will take her on a payment plan. Does anyone know of a clinic that will help me before it's too late? She cannot walk and im afraid she may be dying. Someone please help me! 773-892-9413.
post id: 4464710021posted: 2014-05-11 2:08am
Update as of May 13th.
Cinderella is safe and under care with a vet.
Spaymart, Nonprofit animal organization, has stepped up & was able to get Cinderella in to see the MedVet for the 2nd night & get the cat to the Vet today. The Vet bills are adding up between the 2 overnight stays at the MedVet & the current Vet that has the cat in her care.
The Vet confirmed spinal issues, bug spray in the cats mouth, liver count high & panting, labored breathing. Cinderella is fighting.

If you would like to donate to Cinderella's care

Spaymart
P.O. Box 6493
Metairie, La.70009-6493
Please note that the donation is for CINDERELLA- Megan Mc Carthy's cat
She is looking for a new place to live so any leads would be appreciated.
Update May 14th/2014
Cinderalla is still hanging on and the vet reports that spinal issue is actually 2 brocken hips. She has chemical burns in her throat and liver issues due to the poison. So far Megan has safe temporary spot to stay as room mate is still not incarcerated. We can only hope that there is justice soon.
Contact:
Animal Aid for Vermilion Area
[email protected]
337-366-0212View this link for current dogs and to check for updates dogs/cats:
https://www.facebook.com/media/set/?set=a.469848889720559.102335.323985237640259&type= 1
(you don't have to be registered with Facebook to view the page)
Some urgent cats: Simmy, Sammy & Kayla, Sif, Simone, Stripes – all urgent 4/21Baby Girl, Bud – both urgent 5/8From:
Sharon Stoskopf <
[email protected]
>
To:Sent:
Thursday, April 17, 2014 10:50 AM
Subject:
Fwd: We desperately need your help in Vermilion ParishI shared and posted on FB ... Please do the same. Thanks,Sharon S.I am writing today with a special plea for help, I know as a rescue myself that you get pleas all day every day to save animals in need. After three dogs were needlessly murdered with a rescue on the way in Vermilion Parish, Animal Aid for Vermilion Area made it our mission to never let it happen again. Vermilion Parish is a very large rural parish in Southwest Louisiana , the citizens in the parish are not what you would call proactive animal lovers, most would rather shoot a dog then bring it to the vet. We now need the help of other rescues to make our mission a reality, we can and will transport, we will do whatever it takes to help you help the animals, our question is can you help us help them? Now most of the animals will be given 4 days then euthanized, so time is of the essence.
Album of animals in need-
https://www.facebook.com/media/set/?set=a.469848889720559.102335.323985237640259&type=1
If you can help please visit our website to submit an application
http://animalaidvermilionarea.com/rescues.php
Below are links to some of the media coverage on this issue
http://www.katc.com/news/katc-investigation-finds-many-vermilion-animals-euthanized-early/
http://www1.katc.com/news/rescue-worker-turned-away-in-vermilion-parish/
http://www.katc.com/news/three-dogs-euthanized-before-being-rescued/
http://www.katc.com/news/three-dogs-euthanized-in-vermilion-despite-rescue-group-s-request-to-save-them/
http://999ktdy.com/animal-rescue-group-asks-citizens-to-attend-police-jury-meeting-in-abbeville/
Thank You,
Cindy Hunt
Animal Aid for Vermilion Area
Find us on Facebook! Animal Aid for Vermilion Area
https://www.facebook.com/AnimalAidVerm
Visit us online:
http://animalaidvermilionarea.com/
Find us on Petfinder!
http://www.petfinder.com/pet-search?shelterid=LA26
AAVA phone # 337-366-0212
Animal Aid for Vermilion Area
5937 Veterans Memorial Drive
Abbeville , LA 70510
Paypal:
[email protected]
 LA (Kaplan) KATC 4/3 Article on Vermilion Parish Rabies Animal Control Center
Apr 3, 2014 8:07 PM by
Allison Bourne-Vanneck and Tina Macias
KATC Investigation finds many Vermilion animals euthanized earlyA KATC investigation has found that the Vermilion Parish Animal Control Center may have violated parish law when it killed hundreds of dogs and cats before its ordinance allows. Each parish makes their own rules when it comes to how long animals should be kept before being euthanized. In Vermilion Parish, they're given four days. The parish's
animal control ordinance
reads, "If any such dog or cat is not claimed within the four days after it is seized and impounded, it shall be disposed of in a humane manner." However, KATC's investigation found that in 2013, 27 percent of dogs that were euthanized died before the four days were up. KATC reviewed hundreds of parish euthanasia records and uncovered that last year, more than 21 percent of all dogs and cats were killed before four days, some even dying the day they arrived at the facility.
2013                       Dogs    Cats     Total
Total Euthanized    601       751      1,352
<4 Days                  160       134         294
%<4 Days               27%     17.8%      21.8%
KATC's investigation began with complaints from animal rescue groups over three dogs being put down by Vermilion Parish the same day they were supposed to be rescued. Our investigation looked at kill rates for every Acadiana parish, which we will detail tomorrow. Vermilion didn't give us theirs, but they did give us access to their records. Those records showed hundreds of animals had a fast death at the facility. For example, three chihuahua puppies came to the Verimilion Parish Rabies and Animal Control Center last year on Sept.12, but they didn't stay for the four days required by law.According the facility's euthanasia log, the puppies were put down the very same day. But the chihuahuas weren't alone. It's been short stays for other animals at the facility. Last year two cats, Tessi and Rebecca, along with their kittens, were brought in on April 17. However, the very next day, April 18, the facility's euthanasia log showed Tessi and Rebecca were euthanized. There's also 6-month-old Jane, a mixed breed brought in last year on August 26. Jane was killed three days later that Thursday. A former animal control warden in Vermilion backs up what we found in the documents. "Every Thursday was euthanasia day, and sometimes we would pick up the dog on Monday and by Thursday they were gone," said Thad Savoy, a former animal warden of the Vermilion Parish Rabies Animal Control Center. As warden, Savoy signed off on the animals he brought into the facility. However, only some of those dogs while he worked at the facility, he said, would get posted online, and get a fair chance to be saved. "Most of the dogs that were picked up were able to be rescued. But they were not rescued or put online because of the color or the breed. ... It's kind of hard to say; it's kind of hard to describe why," Savoy said. For now, the parish is not commenting on KATC's investigation. On Wednesday night, the Vermilion Parish Police Jury unanimously denied KATC's request for an interview with Animal Control Facility Director Pam Monceaux and Public Works Director Bill Nogel. "I would like to see more animals get adopted. That's my number one concern," Savoy said. The only way dogs and cats should be killed before the four days is if their death is, "Deemed necessary or appropriated by a licensed veterinarian," according to Vermilion Parish ordinance. However, KATC found no parish records of veterinarians giving permission for these "early euthanasias." While officials denied our request for an interview, they said parish administrator Linda Duhon would be able to discuss what KATC uncovered next week.
Comments
Steph Hunt · Top Commenter
Just FYI it is common knowledge that they get paid something like $3 for each cat carcass they send to LSU. Very few cats make it out that place alive.
April 3 at 6:49pm
TONY'S BILL
is on the agenda for tomorrow,
TUESDAY
, for a senate floor vote. PLEASE email your senator now!!!! Tell him/her that
"Sandlin has exploited tigers for over 20 years: buying, breeding, selling, and exhibiting tigers in poor conditions for his own profit. The U.S. Department of Agriculture (USDA) has cited Sandlin's truck stop in the past for unsanitary feeding practices; mishandling tigers; and failure to provide veterinary care, shelter from inclement weather, clean drinking water, and knowledgeable employees to care for the tigers. In 2003, Sandlin's animal welfare violations sparked public outcry, and three tigers were removed. The USDA allowed Sandlin to keep one tiger: Tony. He has been alone ever since." Obtained from the ALDF website at
http://aldf.org/cases-campaigns/features/tony-the-truck-stop-tiger/
-----------------------------------
Remind him/her that the courts have spoken. Tony must be released!
-----------------------------------
Click here
to find your senator.
--

More Info from Animal Aid for Vermilion Area on New Policy for Vermilion Parish Rabies and Animal Control (VPRAC) Facility
·Other Cat rescues and dog rescue groups are needed to help save animals.
·Relocation places needed for non-adoptable and feral cats.
·New euthanasia guidelines for strays in Vermilion Parish.
In response to your inquiry about the article, the following is AAVA's understanding of the issue:
Let me begin by saying that Animal Aid for Vermilion Area (AAVA) is currently meeting with the Vermilion Parish Police Jury (VPPJ) to discuss policy changes at the Vermilion Parish Rabies and Animal Control (VPRAC) facility, which is located in Kaplan, Louisiana.
We feel that the article is slightly misleading by implying that the feral cats would be euthanized, while dogs are not.
At a meeting on Wednesday April 2, the issue of what to do with the large number of feral cats that VPRAC has trapped and is holding in overcrowded cages, due to the current euthanization ban was raised. There was some discussion of starting a TNR program in Vermilion Parish. However, that would be a long-term solution. The police jury did seem open to turning the feral cats over to anyone willing to take them, so long as they are not simply released back into the community only to be re-trapped. If your organization (or any other that you are aware of) is willing to assist with this problem, please let AAVA know immediately, or contact Pam Monceaux, director of VPRAC, at (
[email protected]
), or Linda Duhon (parish administrator) at (
[email protected]
) directly to let them know. At the meeting, the jurors did indicate that the feral cats would have to be euthanized if they did not find someone willing to take them, and AAVA is simply not in a position to take them at this time.
It is our understanding that the euthanization ban (for dogs and cats alike) will be lifted after the police jury meets and votes on Monday 4/7/14 at 6pm. Thereafter, AAVA will be allowed at total of twenty 30 day kennels, where the animals first in can be held for us to network them to find rescues, fosters, or adopters for them. After 30 days, the animals will be euthanized. It is our understanding that any animals not in the 30 day kennels will be euthanized after 4 days (but this needs to be clarified further with VPPJ). Because of the large numbers of cats that are trapped in Vermilion parish, the fact that most of them will now be posted for adoption instead of simply euthanized, and because it appears that they are now being listed separately where before some were caged and posted together, we foresee a number problem arising very quickly, and we will need all of the help we can get from other rescues to move them out of the facility as quickly as possible.
As of this morning (before VPRAC opens for intake), there are 24 animals at the shelter (11 dogs and 13 cats). After the meeting tonight, the first 20 animals in will move into the 30 days kennels, and the other 4 will be subject to the 4 day euth period. It appears that 9 of the cats will move into 30 day kennels, and 4 will not. Therefore, if you (or anyone you are aware of) can assist us in getting any of the 13 cats (or any of the dogs) out of VPRAC, please notify us IMMEDIATELY
Sent: Monday, April 7, 2014 1:32 AM
Hi Beth and Cindy
I've been circulating your e-mail to my contacts but several of us saw the article and news on Katc about the new euthanasia policy for Vermilion and saw the article that says:
"Police jurors decided Wednesday night to begin euthanizing feral cats"
This does not seem a humane solution and we are also wondering who is determining which cats are really feral? I know that Vermilion is a very stressful place, especially for cats. That's good about extended holds for dogs but can you please explain the policy for cats? Is there still a stray hold period for cats? What about ear tip cats?
Regards
Diane
Subject: FW: Article: Vermillion Parish, LA - New euthanasia guidelines for strays in Vermilion Parish (GOV)
Importance: High
Where's Vermillion? …
Warm Regards,
Aileen L. Walden
Director Community Programs & Support
New euthanasia guidelines for strays in Vermilion Parish
by Allison Bourne-Vanneck April 2, 2014

Short term guidelines are in place in Vermilion Parish, as to how stray animals will be euthanized. The Vermilion Parish Rabies and Animal Control Center's policy came into question three weeks ago after three dogs were killed, that were set to be rescued that same day. After that happened, a euthanasia ban was put into place. Police jurors decided Wednesday night to begin euthanizing feral cats, they decided to uphold the euthanasia ban for dogs. However, dogs will get put down if the center fills up to capacity, which is 20 dogs. Once that number is reached, dogs that have been at the facility the longest will be the first to die. Police jurors and animal advocates decided on a new possibility to help to save stray animals."They've given us 20 safe kennels to put either cats or dogs in whatever we choose and they'll keep them. They'll hold them there for 30 days. They'll feed them while we can network them, and try to get them out for adoption or to another rescue, so this is a very positive step," said Beth Trahan, President of Animal Aid for Vermilion Area. The kennels will belong to the rescue group. Before the meeting an animal could be put down after only four days, but with the 30 day holding period, it gives the animals a greater chance to live. "I'm very satisfied into where we move forward into our discussion with the group of volunteers. I think it's going to take some time, it's not going to happen over night, it may take awhile but we'll get there," said Wayne Touchet, a police juror for district five in Vermilion Parish. The discussion is far from over. Police jurors and animal advocates will meet again in two weeks to move forward on creating a written policy and protocol for euthanizing animals.
Johnnie Simpson
Communications Associate
Alley Cat Allies
Alley Cat Allies is the only national advocacy organization dedicated to the protection and humane treatment of cats.Please consider making a donation to support our work at www.alleycat.org/Donate
Millions of cats are killed each year. The shelter system has failed. What we need is humane care for cats!
www.CommonSenseForCats.com
Be an alley cat ally! Join
FeralPower!
today to show your support and stay informed regarding issues impacting stray and feral cats
can anyone help with this project?will everybody please think of anyone who could take a piece or two of this transport plan? don't assume anything....ask everybody! you never know when someone can help a bitplease
If you can help, please contact transport coordinator:
Please help this active duty soldier currently stationed in Afghanistan be reunited with his dog!
Cadence was stationed in Texas with her human dad when he was deployed overseas. He left her with a trusted friend and went off to war. Cadence was stolen, but later turned up hundreds of miles away in a rural Louisiana shelter that has gone to great lengths to track down her rightful people. Her soldier dad is still in Afghanistan, but his family and his fiancé in Minnesota will be making room for Cadence. He will be returning to the states in a few weeks to get married and it would be wonderful if Cadence could reunite with him then! Please help her get to Minnesota by driving a leg on her transport north.
CROSSPOSTING  to trusted contacts greatly appreciated.
Contact - Transport Coordinator
Neil Golden
Tulsa, OK
On The Road Again (OTRA)
Verified Transport Coordinator
Oklahoma Co-Moderator
918-938-1041 - *email preferred
Please include the required Driver Information with your offer:
Leg offered:
First and Last Name:
Location (city/state):
Email:
Is email available at all times?
Home phone:
Cell phone:
Vehicle make/model/color/license plate:
Reference with Contact Info (Transport Coordinator/Rescue/Vet):
Saturday, April 19
Leg 1
St. Martinville, LA to Alexandria, LA
7:00 am - 8:30 am
1 hr 30 min; 101 miles
Filled - Thanks to Patty, OTRA-V
Leg 2
Alexandria, LA to Natchitoches, LA
8:40 am - 9:40 am
1 hr; 60 miles
NEED
Leg 3
Natchitoches, LA to Shreveport, LA
9:50 am - 11:00 am
1 hr 10 min; 76 miles
NEED
Leg 4
Shreveport, LA to Tyler, TX
11:10 am - 12:30 pm
1 hr 20 min; 93 miles
NEED
Leg 5
Tyler, TX to Terrell, TX
12:40 pm - 1:45 pm
1 hr 5 min; 68 miles
Filled - Thanks to Jean & Bill
Leg 6
Terrell, TX to Lewisville, TX
1:55 pm - 2:55 pm
1 hr; 57 miles
Filled - Thanks to Janet D.
Leg 7
Lewisville, TX to Davis, OK
3:05 pm – 4:35 pm
1 hr 30 min; 102 miles
Filled - Thanks to Sheila & Page
Leg 8
Davis, OK to Oklahoma City, OK
4:45 pm – 5:55 pm
1 hr 10 min; 80 miles
Filled - Thanks to Dee
Leg 9
Oklahoma City, OK to Billings, OK
6:05 pm - 7:10 pm
1 hr 5 min; 72 miles
Filled - Thanks to Kelly
Leg 10
Billings, OK to Wichita, KS
7:20 pm - 8:30 pm
1 hr 10 min; 84 miles
Filled - Thanks to Doreen
** Overnight Host – Wichita, KS **
Filled - Thanks to Doreen
Sunday, April 20
Leg 11
Wichita, KS to Emporia, KS
7:00 am – 8:20 am
1 hr 20 min; 88 miles
Filled - Thanks to Doreen
Leg 12
Emporia, KS to Shawnee, KS
8:30 am – 10:00 am
1 hr 30 min; 98 miles
Filled - Thanks to Dawn
Leg 14
Shawnee, KS to Bethany, MO
10:10 am – 11:40 am
1 hr 30 min; 100 miles
Filled - Thanks to Janet B., OTRA-V
Leg 15
Bethany, MO to Des Moines, IA
11:50 am – 1:20 pm
1 hr 30 min; 100 miles
Filled - Thanks to Ruth
Leg 16
Des Moines, IA to Clear Lake, IA
1:40 pm – 3:25 pm
1 hr 45 min; 110 miles
Filled - Thanks to Stephanie
Leg 17
Clear Lake, IA to Owatonna, MN
3:35 pm – 4:40 pm
1 hr 5 min; 70 miles
NEED
Leg 18
Owatonna, MN to Minneapolis, MN
4:50 pm – 6:00 pm
1 hr 10 min; 73 miles
Filled - Thanks to Lisa & Mike, OTRA-V
Leg 19
Minneapolis, MN to Hinckley, MN
6:10 pm – 7:20 pm
1 hr 10 min; 77 miles
Filled - Thanks to Tia & Bill
<End of Transport>
Passenger Information
Name: Cadence
Breed: Husky-mix
Colors: White/tan
Sex: Female, spayed
Age: 18 months
Reason for transport: Shelter to family
Size/Weight: 45 lbs.
Vaccinations: Date? – (parvo/distemper/bordetella)
Heartwom test: Unknown
Original Rabies Certificate or Tag: Yes
Health Certificate: State of LA
Microchipped: Yes
Behavior/temperament: pending info
Housetrained: pending info
Rides well in car: pending info
Crate required: pending info
Special Needs: pending info
Sender
St. Martin Parish Animal Services
St. Martinville, LA
Michelle Brignac
Receiver
Brian Mullholland
Hinckley, MN
--
Sheri JacksonIndependent Transport Coordinator
Mpls, MN
[email protected]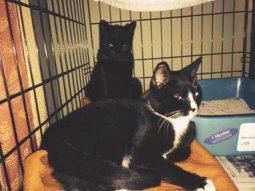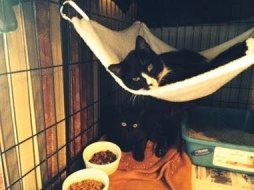 Friendly Kittens in Danger re: LA ( Metairie ) Urgent - 5 & 7 month old bonded kitties – need place to go today

 
Subject: Urgent-5 & 7 month old bonded kitties
These 2 kitties live at a complex where the manager hates cats and has been seen trying to spray them with bleach,these kitties are at risk because they are friendly. There is a couple that lives there and feeds them but can't take anymore in they have 4 cats and they are both on disability. These 2 kitties hang out in front of their apt door and the hateful manager lives next door. I have done Tnr there and rescued a mom and 2 kittens but will have to put these 2 back tomorrow afternoon Thursday April 10th They were neutered yesterday black and white is Sylvester and he is 7 months the solid black is Onyx and he is 5 months old. If you can help these boys please call me at 504 462-1968.
Thanks, Anastasia
/